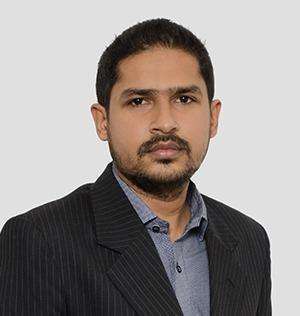 Head-Audit and Compliance
Irfan has well-rounded experience of over 12 years in the field of Accounts, Finance and Compliance. He has been involved in various capacities in the field of Education, brokerage house and commercial import/export business. Prior to his current position , Mr. Irfan was associated with CAMS (one of the top-rated educational institute for finance) as chief accountant where has been actively involved in Auditing, tax planning, handling corporate affairs and systems designing. Before his assignment at CAMS, Mr. Irfan was heading Accounts and Settlement Department at Shehzad Chamdia Securities (Pvt.) Limited. He managed a team of professionals and was responsible for Receivable & Payable Position of all Clients, Exposure maintenance with Stock, preparation of monthly accounts, dealing with auditor and banks.
Irfan holds MBA degree from CAMS (Affiliated with university of Karachi) with a majors in finance and is also an ICM certificate holder from Institute of Capital Markets.