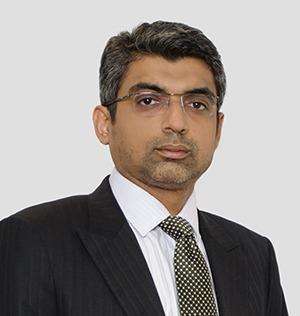 Mr. Zubair Ghulam Hussain
With 19 years of work experience, Mr. Zubair has a proven track record of servicing both domestic and Foreign Institutional Clients. He has represented Pakistan on various investor forums, conferences and analyst road shows. Zubair was instrumental in conducting KASB-ML conferences in London and Singapore, which were considered as flagship conferences for Pakistan between 2005-2008.
Mr. Hussain was Head of Equities (2009-2016) at Foundation Securities Pvt. Limited overlooking both the sales and research teams. Zubair was also Macquarie`s point man in Pakistan coordinating with the top management for marketing efforts, research publications and analyst road shows. He was also a part of the team that oversaw the divestment of PPL secondary public offering of $100mn. Zubair was instrumental in getting FIIs interest in the transaction which witnessed oversubscription by twice the amount and was the only transaction that got executed at a premium based on its last closing price. Before that, Mr. Hussain was Head – Equity Sales and Trading Desk (2003-2008) at KASB securities (Local JV- Bank of America Merrill Lynch). He was responsible for developing and servicing the international and domestic client base. KASB had the highest market share in the FII business under his leadership and Zubair also worked at the London sales desk at BOFA-ML twice for brief stints marketing Pakistan Equities.
Mr. Hussain is well known amongst the domestic fraternity and has been voted as the runner up in the Best Sales person category by 2013 CFA Polls, Best Salesperson by 2011 CFA Polls, 2nd Best Salesperson in the 2007 Asia Money Polls and 3rd Best Sales person in the CFA Polls 2009. Zubair is a bi-majors in Finance and Marketing from Institute of Business Administration (IBA) and also received ICM certification from Pakistan Institute of Capital Markets.